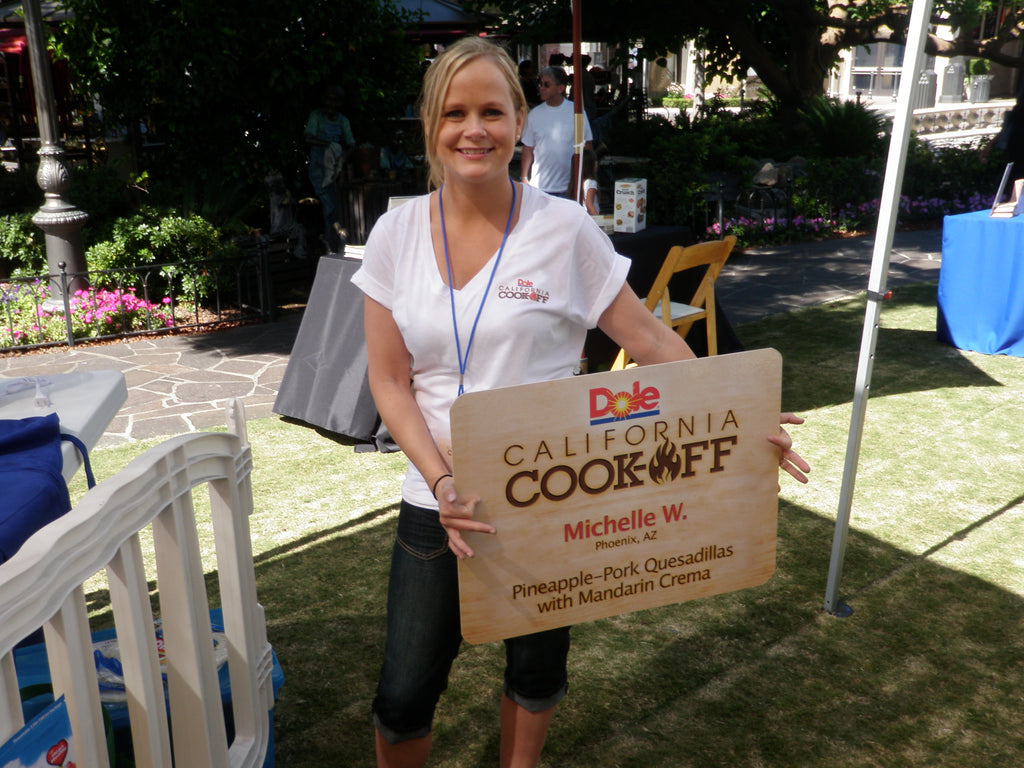 The Winning Recipe
17 April, 2020 / Michelle Wiederhold / COMMENTS (1)
It all started about ten years ago, and it started with fish sticks. Yes, you heard me right, fish sticks. I came across a Gorton's fish stick box and it had information on a recipe contest. You could win free fish sticks. I was in. I decided to make a fish stick taco with orange/cilantro slaw. I received $50 worth of coupons months later and I was hooked.
I have always loved to cook and create fun and creative dishes. Who knew there was a whole world of contest cooking out there for the home cook? Not me. Once I started searching these contests out, I started cooking and experimenting. I have entered contests with $25 prizes up to the elusive $1,000,000 Pillsbury Bake off prize. 
My first big contest was the Lea n' Perrins contest. I had to create a short video of me creating my dish. I decided to make a take on gumbo but serve it over mashed potatoes. I became a finalist and even had the news come over to do a segment on my contest. It was nerve wracking but oh so fun. I will spare you the seedy details (unless you want to message me privately, lol) but all the finalists won the $10,000 prize and trip to New York. We all won because there was so much cheating going on in the voting aspect of the contest. The company decided to let us all win the grand prize. I will let you imagine how uncomfortable  the "cheaters" were sitting with all the finalists at a dinner table. 
Fast forward to my biggest win to date, which was in 2012. I was pregnant with Audrey and decided to make a couple sandwiches for the Mezzetta contest. I think I made three different ones, but my take on a croque monsieur was by far my favorite. I was called late one night by Mezzetta and they said one of my sandwiches had won a prize. I knew instantly it was that sandwich. When they told me it was the grand prize, I almost passed out. I had won $25,000 and an all exclusive trip to Napa. I was seven months pregnant during that trip, but the tour and experience Mezzetta showered me with was one of my highlights in life.
I have entered hundreds of contests, won some and lost most. I have cooked on stages with celebrity chefs and had crazy equipment malfunctions. I have cooked so many dishes on a timed clock, which is competition cooking at its finest. I've dealt with the seedy underbelly of the contest world and the highs of winning on a stage and getting that "big check." Most of all, I have cultivated friendships that will last a lifetime. One of my best friends in the entire world was my competitor at Better Home and Gardens Chill and Grill. Brett showed me how a true professional competes with class and precision. Yes, he beat the pants off me. I have had the pleasure of being his sous chef in the World Food Championships a couple years ago. We had the most fun! 
I could write a book on this topic, as it has become part of who I am now. I have so many incredibly unbelievable stories that I think of often. I have been so busy with my newest venture, Twig & Lace®, that I have not entered a contest in almost a year. That is about to change. Sutter Home Build A Better Burger is having their 30th Anniversary contest. I have entered this contest so many times and I have never been chosen. I'm dusting off my sauté pans and getting my ideas together because I'm dying to get on that stage again and have the Winning Dish!
Comments